Export as CSV
You can export your vulnerability data as a CSV file for use in another application. The Export as CSV button is available in these locations:
All Vulnerabilities
App > Vulnerabilities tab
App > Scan > Vulnerabilities tab
Filter data
The CSV only includes the vulnerabilities you choose. Use the checkboxes or a filter to narrow down the information that gets exported.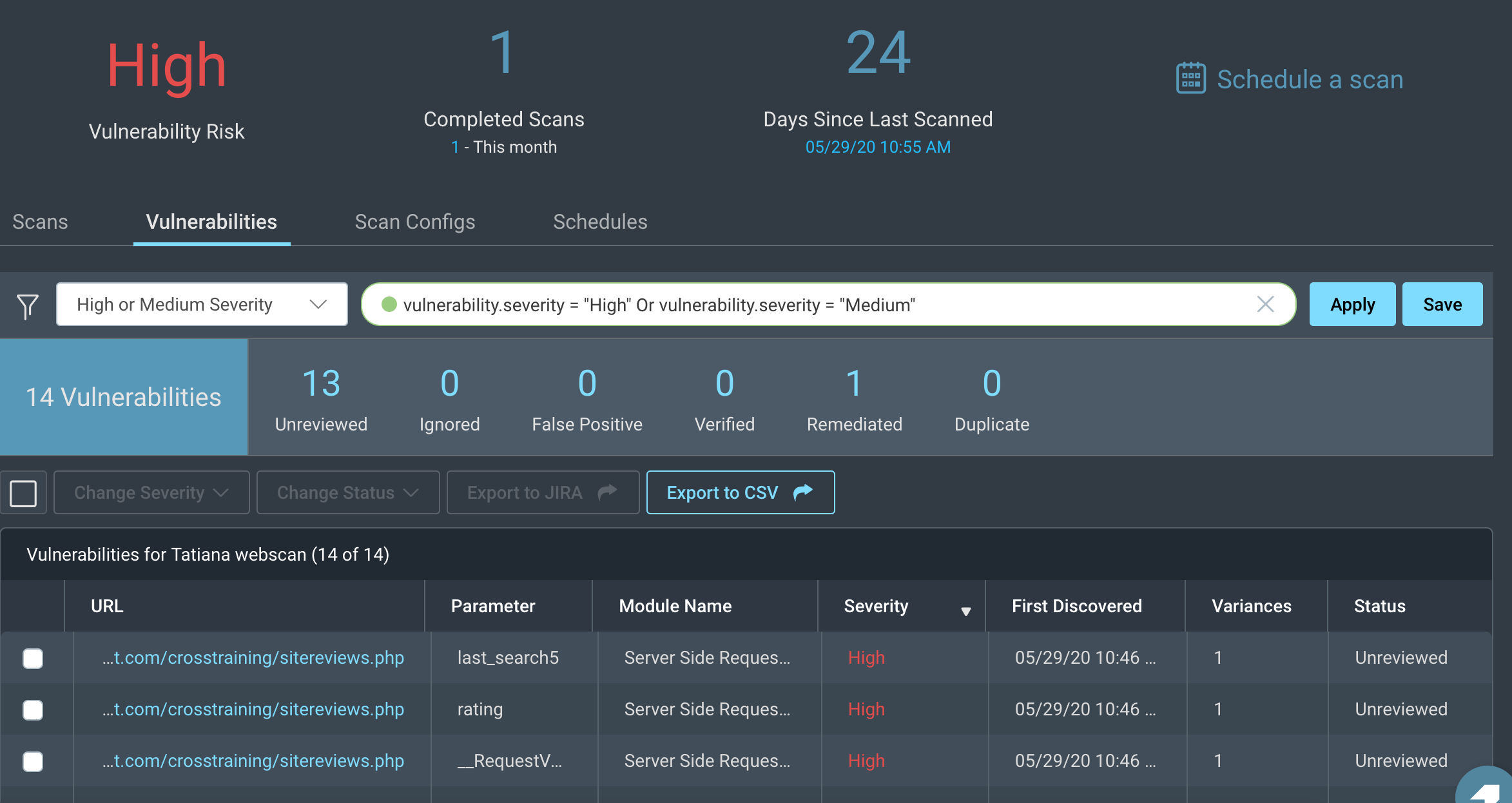 Export fields
The following data fields are available in the CSV export.
app_name
app_description
app_uuid
rootCause_url
rootCause_parameter
rootCause_method
moduleName
status
scanType
parentScanUuid
severity
variances_size
attackType
firstDiscoveredScan_appId
firstDiscoveredScan_crawlOnly
firstDiscoveredScan_createTime
firstDiscoveredScan_endTime
firstDiscoveredScan_engineUuid
firstDiscoveredScan_failureReason
firstDiscoveredScan_highestSeverity
firstDiscoveredScan_parentScanUuid
firstDiscoveredScan_scanConfig_appUuid
firstDiscoveredScan_scanConfig_attackTemplateUuid
firstDiscoveredScan_scanConfig_description
firstDiscoveredScan_scanConfig_lastScanTime
firstDiscoveredScan_scanConfig_name
firstDiscoveredScan_scanConfig_uuid
firstDiscoveredScan_scanType
firstDiscoveredScan_scheduleUuid
firstDiscoveredScan_startTime
firstDiscoveredScan_status
firstDiscoveredScan_uuid
firstDiscoveredScan_vulnCount
lastDiscoveredScan_appId
lastDiscoveredScan_crawlOnly
lastDiscoveredScan_createTime
lastDiscoveredScan_endTime
lastDiscoveredScan_engineUuid
lastDiscoveredScan_failureReason
lastDiscoveredScan_highestSeverity
lastDiscoveredScan_parentScanUuid
lastDiscoveredScan_scanConfig_appUuid
lastDiscoveredScan_scanConfig_attackTemplateUuid
lastDiscoveredScan_scanConfig_description
lastDiscoveredScan_scanConfig_lastScanTime
lastDiscoveredScan_scanConfig_name
lastDiscoveredScan_scanConfig_uuid
lastDiscoveredScan_scanType
lastDiscoveredScan_scheduleUuid
lastDiscoveredScan_startTime
lastDiscoveredScan_status
lastDiscoveredScan_uuid
lastDiscoveredScan_vulnCount
scans_size
uuid