Generate and Manage Reports
We are rolling out NEW dashboards and reports starting June 2021
This article explains how to generate and manage reports using our legacy reporting feature, which will be deprecated after we migrate everyone to the new experience. For more information about our new dashboards and reports, see Dashboards and Reports.
Reporting can be set on a schedule, which allows you to see your data when you want it without having to reconfigure dashboards, cards, and queries. You can also download the reports as PDFs and easily share them with others who may not have access to the platform. Additionally, the "Report Archive" stores all of your archived reports, so if you need to see something from a month ago, the report is available for you right away.
Generate a Dashboard Report
When viewing your dashboard, you have the option to generate a report. After selecting a Dashboard, you should click the Generate Report button.

You can generate a one-time report, or create a reporting schedule.
Schedule Reports
Scheduling reports allows you to choose how often to run the report, on which day the report is generated, and at what time the report is generated. It also allows you to select the start date and end date. Choose the options you want and select Schedule Report to begin the schedule.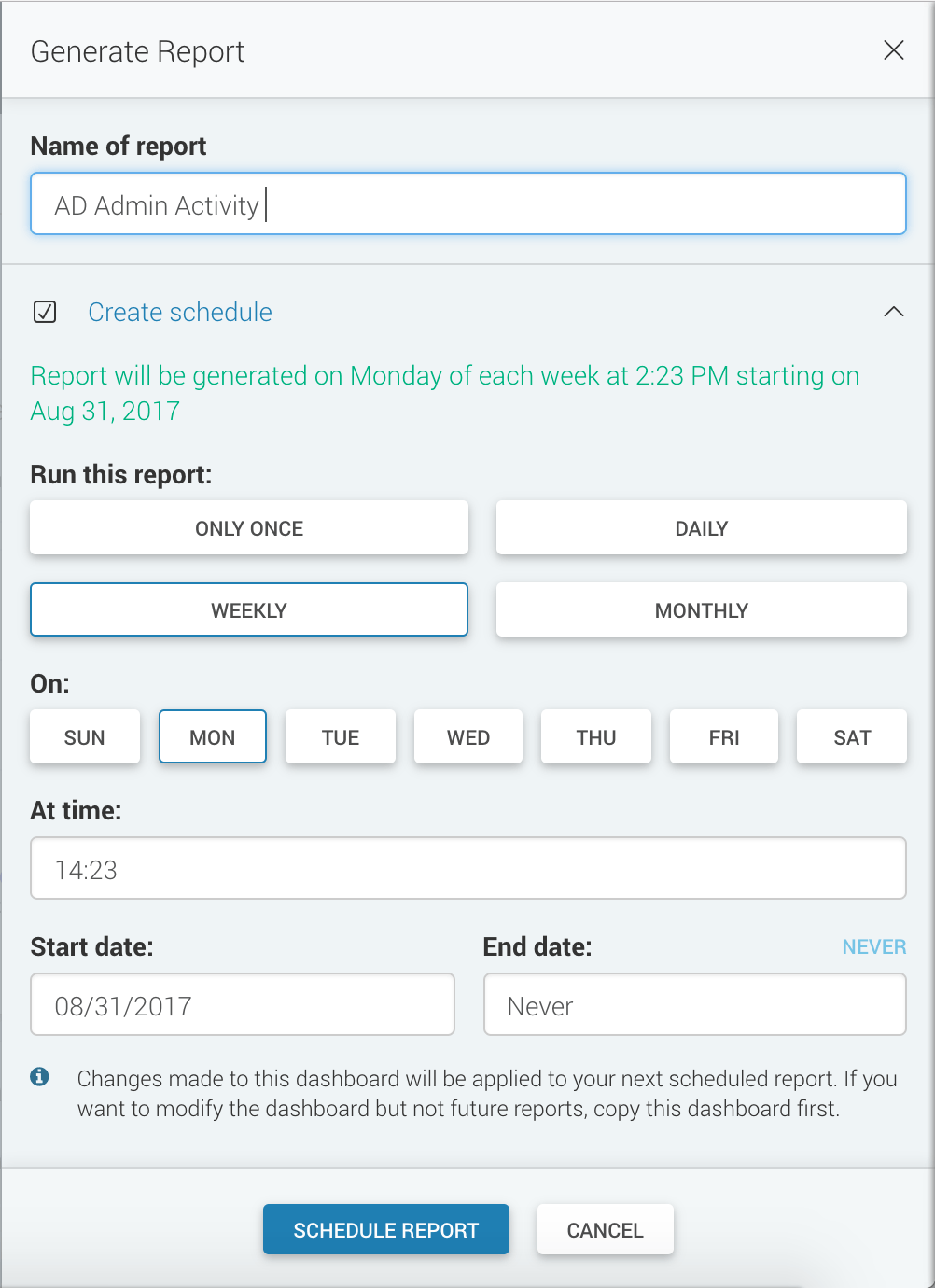 You can find all of your reports in the "Report Archive".
Report Archive
Select Report Archive from the left-hand menu.
This page displays a list of all your existing reports. You should also see the new report that you have created. The name of this report should be the same as the Dashboard; you can also search for other Dashboards to generate a report.

Clicking on the PDF button will allow you to download the Report PDF.
Entries Export
You can also view exported log data in the "Entries Export" tab. Learn how to export your Log Searches.