Share an idea with Rapid7
Rapid7 thrives on innovation. We constantly push the boundaries of security and protection while maintaining the usability of our products. We're also proud to collaborate with our customers, who are often the source of inspiration for product evolution. To promote even more collaboration, we have created a new process (currently in the Beta phase) for customer idea submission, review, and tracking.
Here's how it works:
Submit your idea directly to our Support team. They'll help you refine the idea, then submit it to our Product team on your behalf.
Your submitted idea goes through our idea review process.
The idea will be available for you to track as the review progresses.
Submit your idea
Create a case to submit your idea to our Support team. They'll help you document and scope the idea before sending it for review.
Sign in to the Insight Platform.
Depending on your personal settings, you will either arrive at the Insight Platform Home page, one of your Insight products, or the Customer Portal:
Enter your Case Information on the Create Case page.
Enter your idea in the Subject field.
Enter a detailed description that includes information like:

Problem: Describe the challenge your idea solves.
Overview: Summarize your idea.
Impact: Describe how implementing your idea would impact your business.
Value: Describe the value of your idea in terms of time and effort.

Enter any additional information as necessary.
Click Save to create the case.
After you submit your idea, someone from the Rapid7 Support team will reach out and work with you to ensure your idea is accurately documented. When your idea is ready for review, we'll close your case and create a new idea on your behalf. You'll get an email letting you know when this happens. The email will contain a link to your new idea, which you can use to check its status. Then, we'll forward your idea to the appropriate parties for review.
Idea review process
After you submit an idea, it will be reviewed by a member of our Product team. After review, the Product team may decide to implement your idea in the short term (around 6 months). They may also decide to re-review your idea again in the future, and may implement it later (beyond 6 months). Or, They may decide not to implement the idea.
Idea statuses
Your idea status is updated based on where it is in the review process. It's also important to note that unlike support cases, you won't receive regular cadenced updates on your idea cases. You will, however, receive updates when your idea status is updated.
Idea case status
Description
New
The idea was recently created and has not been reviewed by the Product team yet.
In Review
The Product team is actively investigating the idea. They aim to have it reviewed within four weeks.
Planned
The Product team has accepted the idea and is planning on implementing it within six months.
Not Planned
The Product team has accepted the idea, although it has not been placed on the roadmap. There is no timeline for implementation at this stage.
Missing Information Required
The Product team reviewed the idea, but we need additional key information before we can fully evaluate it. We will reach out to the Support Engineer who raised your case, or your CSM when appropriate, to get this additional information. If the information is not received within four weeks, the idea will be closed automatically. However, it will be reopened once the missing information is received.
Closed
The ticket has not been selected for development for one of the following reasons:

The idea is a duplicate of another.
The idea is too large to implement all at once, so we will break the idea down and develop it in stages.
Missing Information has not been provided within four weeks.

Released
The idea was implemented and released.
My idea was determined to be a duplicate or was too large to implement. What can I do?
In the case of duplicate ideas, we will subscribe you to the parent idea for tracking purposes. You'll be able to view this parent idea under View My Ideas as you normally would. While the Description field may be slightly different, the core concepts are similar. We also make sure that descriptions are cleared of any business-specific and personal details to ensure confidentiality. Additionally, if your idea is too large to develop in one implementation, we will subscribe you to notifications of the smaller requests so you are able to track their progress.
Have a question about your idea?
If you have a question about your idea, reach out to your CSM. They can work with the Product Management team to get you more information. If you have issues doing this, please open a new Support case and reference your idea.
Idea implementation
In order to be as transparent as possible, we want to set expectations about our idea review and implementation process:
Unfortunately, not every idea will be approved by the Product team. An idea may be declined for a number of reasons and at any time.
Any idea approved by the Product team may take months (or longer) to be prioritized for the roadmap and ultimately deployed.
View submitted ideas
You can track your ideas using the View My Ideas button in the Customer Portal: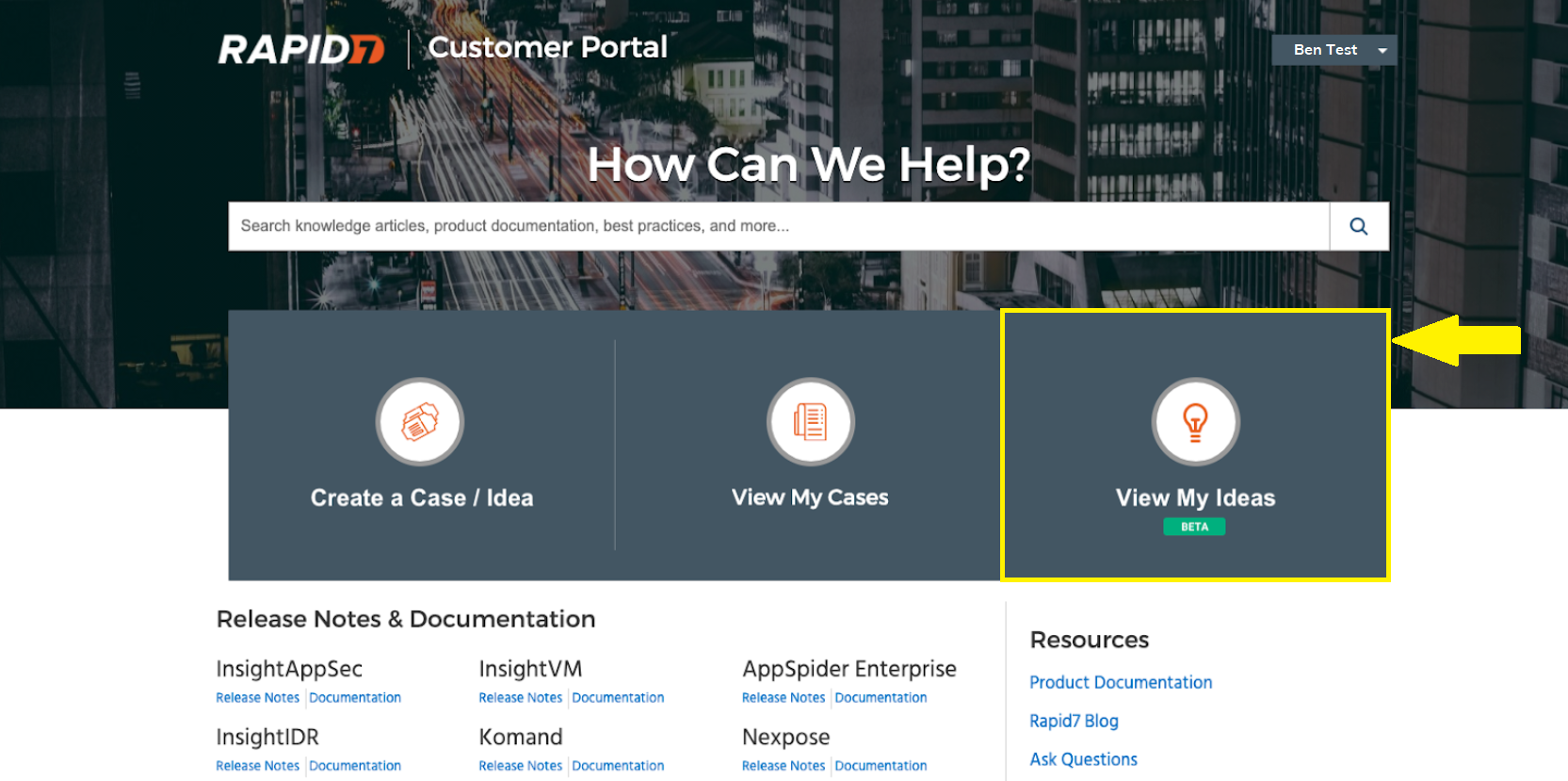 You can also view all ideas from your company account: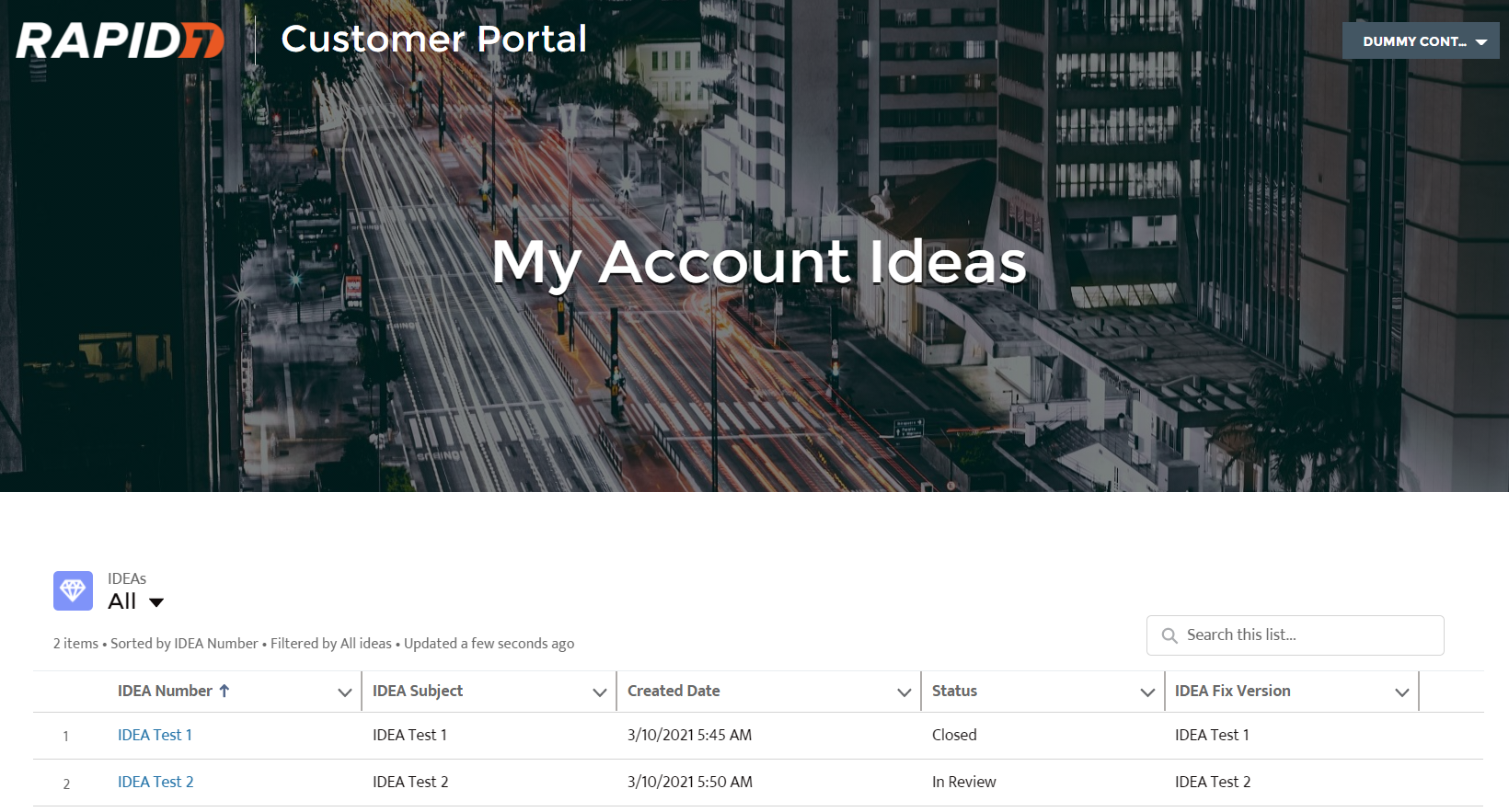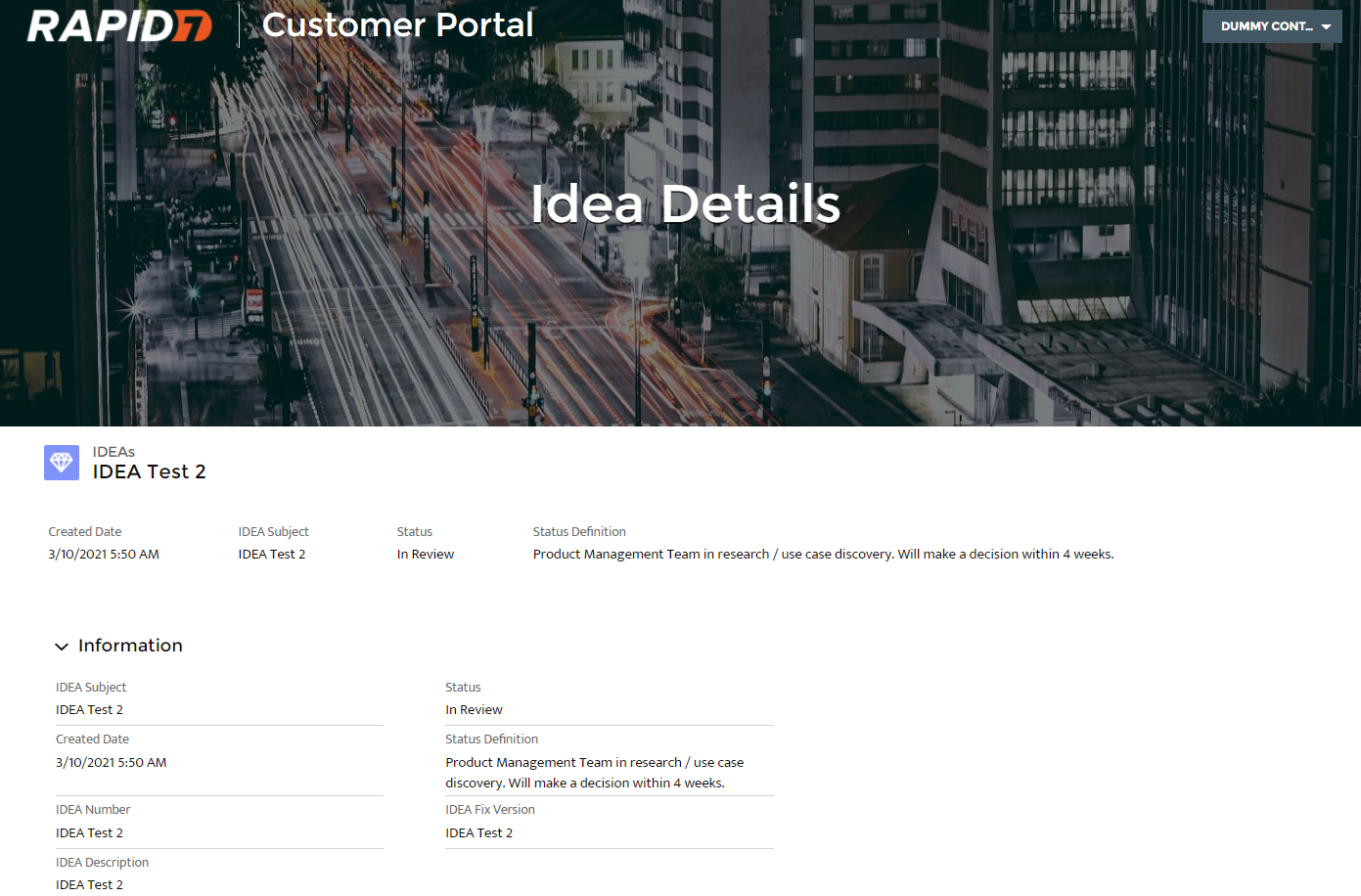 The idea description will contain a high-level summary of your suggestion. Any business-specific scenarios or configurations you referenced in your initial request won't be made publicly available, but this information will be reviewed by our Product Management team. In addition to your own ideas, you're able to see any ideas that have been submitted by others at your company. During this Beta phase, we will only be making Ideas visible on the Customer Portal for InsightIDR or InsightOps. We will be adding more products to this over time.