Contact the Rapid7 Support Team
If you need assistance with your Nexpose product, the Rapid7 Support team is here to help.
Support Team Services
Our Support Engineers offer the following services to ensure that your Nexpose product is working properly and meeting your security goals:
Product feature and capability troubleshooting
Technical expertise
Basic deployment advice and configuration guidance
Support related to Rapid7-provided appliances
Need advanced services?
If you're looking for more guided and hands-on expertise, check out our professional services page to see what else Rapid7 can do for your security program.
How to Open a Case
Nexpose customers can sign in to the Customer Portal with their Insight account email address and password to open a case with the Support team. In addition to case creation and monitoring, the Customer Portal features a series of solution articles that may help you solve your issue on your own.
Severity Levels
The Rapid7 Customer Support Team is committed to continually improving your case creation experience. To this end, we have replaced the existing Severity selection options with Impact and Urgency options. As a result of these improvements, our Customer Support Team now has the ability to gauge the impact your issue is having on your business while understanding the urgency with which you need a resolution. Evaluated together, these fields determine the Severity of your case. The severity definitions are as follows:
Severity-1 "Mission Critical"

A Rapid7 product outage
Malfunction of business-critical appliances
A software defect leaving the system open to unmitigated attack

Severity-2 "High"

Functionality of a Rapid7 product, but with undesired impact to customer productivity
System instability with periodic interruptions
The availability of only short-term workarounds

Severity-3 "Medium"

Full functionality of a Rapid7 product, but with errors
Clarification needed around a Rapid7 product or documentation
General usage questions
Recommendations for future product enhancement

Severity-4 "Information or General Help"

Rapid7 product is fully functional, and there is no service degradation, but you need assistance, information, or clarification.
You can read more about these severity levels and their Service Level Objectives (SLOs) in the Customer Support Guidebook.
Case Creation Guidelines
When creating a new case, the Support team will be best equipped to troubleshoot the issue if you do the following:
Make sure you select the correct product and your timezone.
Be thorough about providing error messages, logs, and other items that can help your Support Engineer determine what the issue is.
Attach screenshots of your product interface. Support Engineers can investigate the issue more efficiently if they see what you're seeing.
How to use the scheduling tool
The Scheduler in the Customer Portal gives you the ability to schedule a time to meet with a Rapid7 Support Engineer. This reduces the amount of time spent on coordinating schedules between you and Rapid7. We want to help you focus on case resolution instead. You can request your Support Engineer's availability after you create a case and during the case lifecycle. Before you schedule a meeting, you will need to provide some context for the issue you are experiencing. This provides our team with the context needed to make progress on this issue more quickly.
Request a meeting
Once your case has been assigned to an engineer and they have reviewed the case and responded, you should see a "Request a Meeting" button in the top right corner of your screen.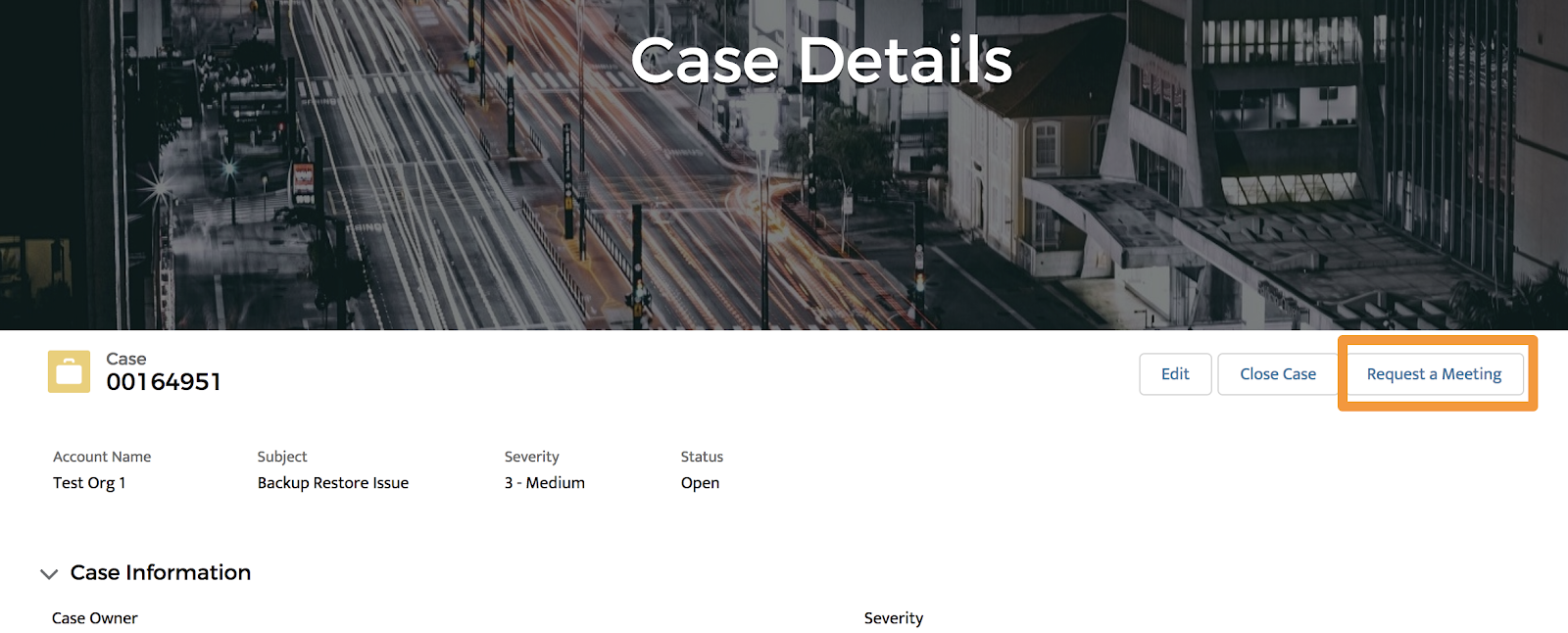 Once you click this, you will receive an email with their availability. You'll need to choose a time that works for you. If your case hasn't been assigned to an Engineer or if they have not had a chance to review your case, the scheduler will be unavailable. You'll need to wait until both of these requirements have been met.
What if I haven't received an email yet?
Check your spam email folders to make sure it hasn't been filtered. Additionally check with your network team if you need to allow these through to your email. Emails are sent from support@rapid7.com and support_scheduling@rapid7.com.
Do I need to schedule a meeting if I create a case?
No. The meeting scheduler is optional and only if you need a meeting. Email support is still available and it is your preference to choose the method that works for you.
I received an error when I tried to schedule a meeting. What do they mean?
If you received an error when you attempt to request a meeting, it could mean one of the following things:
The product you have does not allow for meetings to be scheduled.
The case is with an engineer that has an issue with their scheduler. Please email or comment in the case if this occurs to let us know you require a meeting to be scheduled.
How do I put my case on hold?
Within your case details, click the Put Case On Hold button at the top-right of the page to do so. Before you can submit this change, you'll need to set a next communication date for the case to become active again. Once this date passes, the case will be taken off hold and the status of your case will remain in "Waiting on Customer".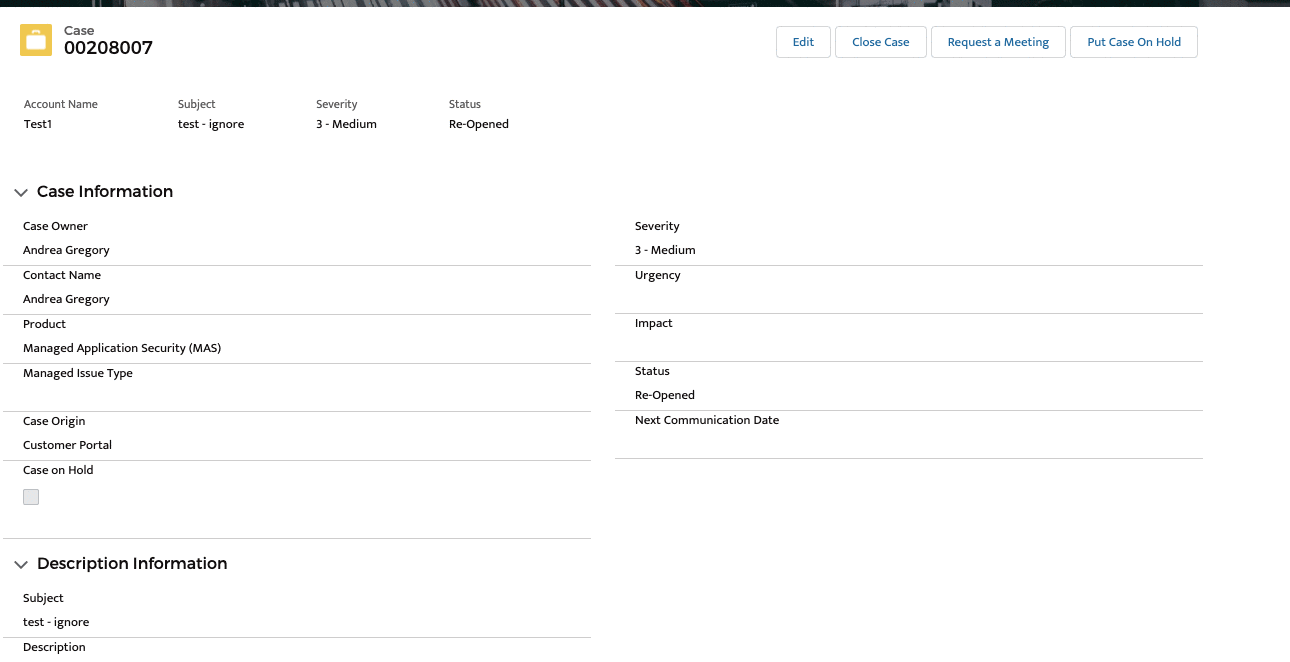 Stay Informed
We publish release notes for Nexpose on a weekly basis to keep you informed about new features, improvements, and defect fixes. You can browse current and past release notes for all Rapid7 products from our product release notes page.
If you're looking for additional security-related knowledge, check out the Rapid7 Blog for new entries posted by our experts.
Other Contact Methods
Visit our Contact page to submit general or sales inquiries, or choose from any of the contact methods shown if you need to get in touch with Rapid7.