Manage Notifications
Receiving Notifications
In order to receive notifications for a service, you must be assigned to that service.
For example, if you want to receive notifications for Managed Detection and Response, you must be assigned as a team member to that service.
See Add Users to a Service for instructions.
All of your notifications will live in the Notification Center, which will indicate unread notifications in the badge number.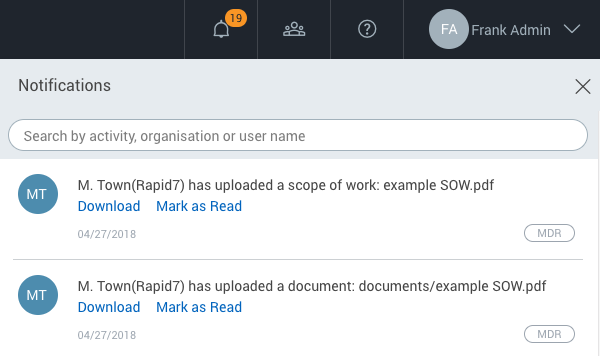 You can mark any notification as read or unread.

Click View to be brought to that specific form on which the Rapid7 Team commented.
What Generates Notifications?
Once you are assigned to a specific service, you will receive notifications when the Rapid7 Team:
Uploads a document
Uploads a report (this will also generate an email)
Adds a form
Uploads a Statement of Work
Changes an Onboarding step
Designates a Rapid7 as a member of your service team
Marks a step of an onboarding phase as complete
Comments on forms (this will also generate an email)