Onboarding
When your Rapid7 Services account is ready, you will receive a welcome email inviting you to begin the onboarding process if you are a Product Admin. If you are a read/write user, or a read only user, you will receive an email to configure your account when an Admin adds you to a product/service.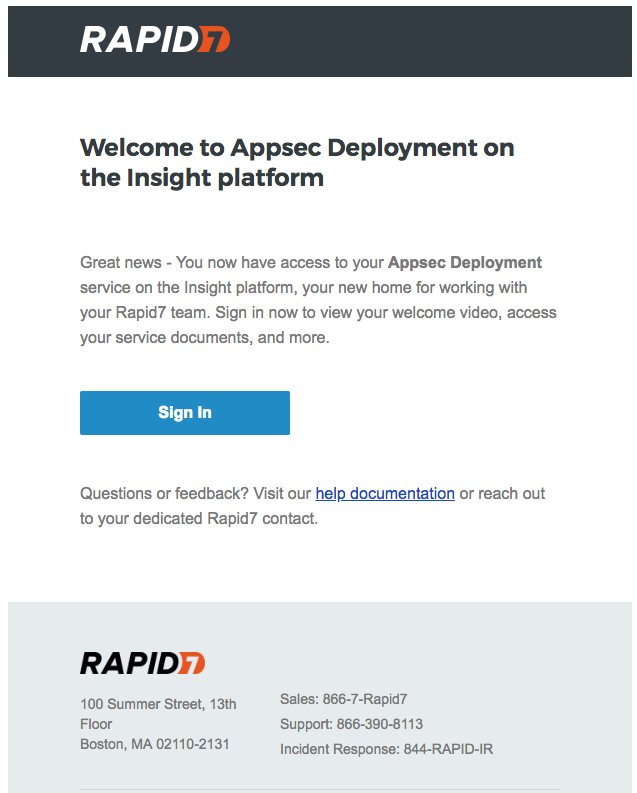 Whitelist insight_noreply@rapid7.com
The welcome email, and all other notification emails, are from a no-reply email address. Make sure to add insight_noreply@rapid7.com to your whitelist.
Go to the Services Home page from the left hand menu and select view on a service tile to begin.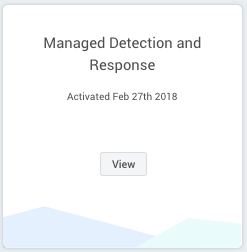 Phases
While working with the Rapid7 Team, you'll go through the following phases:
Onboarding: First, activate your services account and watch the welcome video. Then, provide vital information about your environment to the Rapid7 team
Deployment (If Managed Services), Active Engagement (if Consulting Services): Coming soon. With the help of the Rapid7 team, configure data sources, schedule weekly calls with your advisor, and set up your Product/Service.
Baselining (if Managed Services), Project QA (if Consulting Services): Coming soon. Work with the Rapid7 Team to finish configuring InsightIDR and schedule a final kickoff call. You'll perform a Compromise Assessment to help Rapid7 understand your security environment.
Monitoring (if Managed Services), Project Closure (if Consulting Services): Coming soon. From here, the Rapid7 Team will monitor your service(s) and send you regular reports on all activity.
You can track your progress through this process inside of the service tile.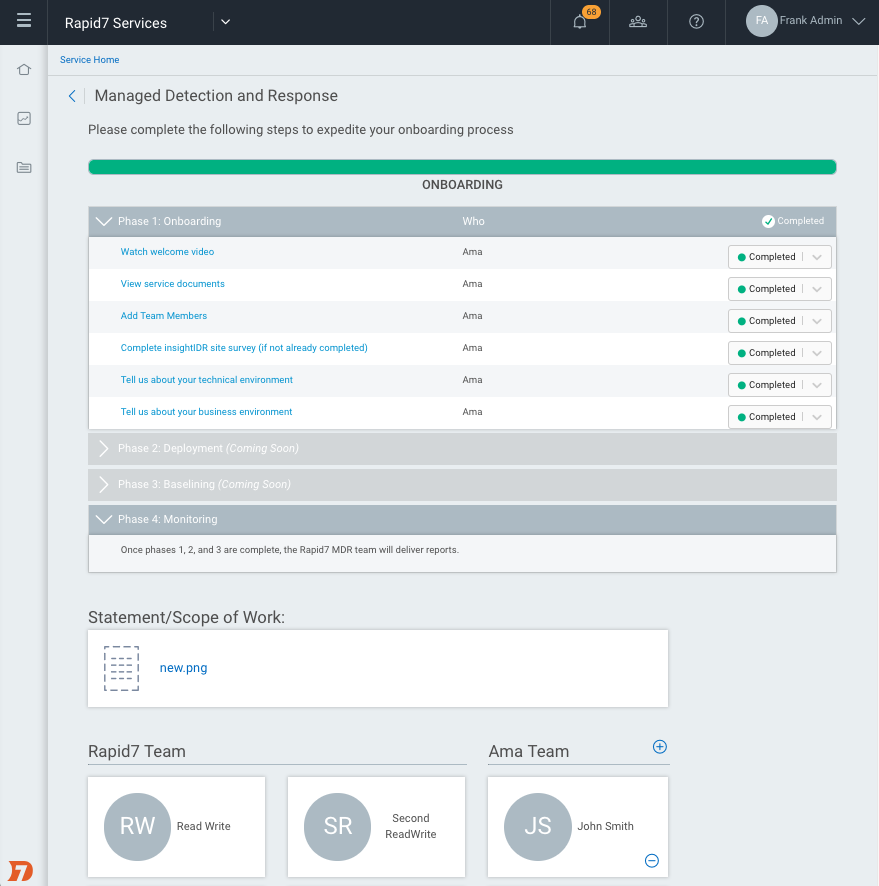 During the onboarding process, the Rapid7 Team will walk you through the requirements and gather the information necessary to set up your services.
You'll work closely with the Rapid7 Team to identify your goals and to provide details about your environment by filling out forms or uploading Documents.
Track Your Progress
Inside of a service tile, you are able to track your progress through the onboarding process. You can change the status of each action item to "Not Started," "In Progress," and "Completed." Additionally, a progress bar displays how far along you are in the process.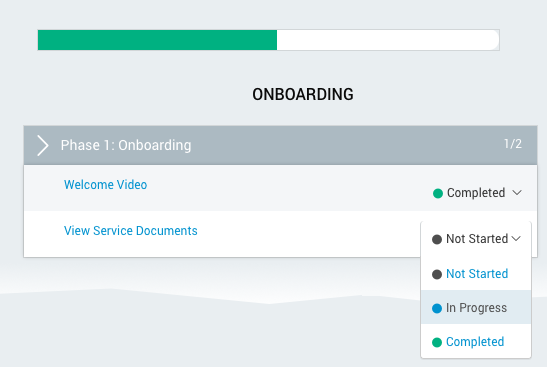 Receiving Notifications
A notification alerts you when an event has occurred that may need your attention. See Managing Notifications for more information.