Manage Company Settings
The Insight Platform centralizes many administrative tasks across your Insight product suite, including maintaining up-to-date company information.
Required User Permissions
Only Platform Administrator users can access and edit items on the Company Settings page.
Additional Settings
You can manage other settings from the Company Settings page as well, like user authentication settings and session timeout rule
Company profile
Company Profile details are only used by Rapid7 to ensure we have the correct details on file for your company. To update Company Profile information from the Insight Platform, go to Settings > Company Profile, then enter or update location and contact information.
Company contacts
You can mark existing users as "key contacts" from the Company Settings page of the Insight Platform. These users are notified regarding escalations for significant events, such as a partial system outage.
To make a user a key contact:
In the Insight Platform, go to Settings > Contacts.
Click the All tab.
Click the star icon in the Key Contact column for the user you want to designate as a contact.
Key contacts appear in the Key tab of the Contacts page. You can add as many key contacts as you want. To remove someone as a key contact from the Key tab, click the star icon next to their name.
Organization display names
You can create a display name, or nickname, for your organization that displays across all of your Rapid7 products and automated email communications.
To create a display name:
In the Insight Platform, go to Settings > Display Names.
Enter your Display Name.
Click Save.
If you want to reset the display name across all of your organizations, click Reset All and your display name will return to its original format.
Platform assistance resource
Insight Platform users can request help by clicking the Contact your Platform Administrator button on the Insight Platform home page.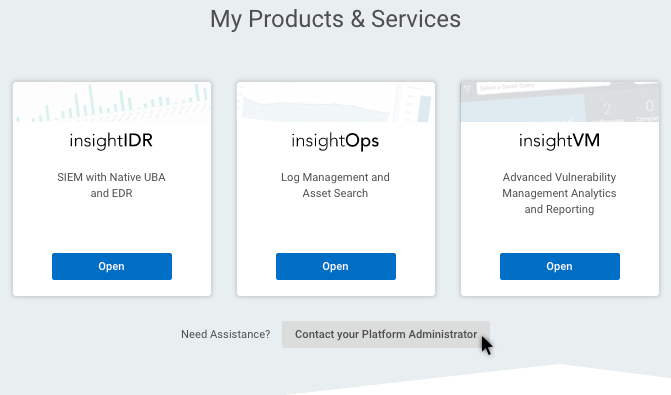 By default, help requests and inquiries submitted this way are automatically sent to every Platform Administrator user at your company. You may choose to specify a company web page, email distribution list, or internal wiki page that Insight Platform users at your company should use instead.
To set a custom Platform Assistance resource:
In the Insight Platform, go to Settings > Platform Assistance.
Enter the Platform Assistance resource URL or email address in the Link or Distribution List field. URLs must be HTTPS.
Click Save.
How to delete a trial account
Deleting your company's trial Insight Platform account removes the associated customer record along with all associated organizations and product licenses from the Insight Platform.
If you ultimately decide not to move forward with the trial Insight Platform account for your company, you can delete it entirely from the Company Settings page as long as you are the only remaining active user:
If you have not done so already, open the User Management page and delete all active users for the account.

Your customer account will not be eligible for deletion unless all active users (other than yourself) are deleted first.

On the left menu of the Insight Platform user interface, click Settings.
Click Delete this Account in the upper right corner of the page.
Need help deleting your account?
If you need to delete only a specific organization or product instead of the entire company account, you can't delete your account yourself, or you have questions about deleting product data, submit a case through the Customer Portal for assistance.