Browser Settings
You can use this page to find information about:
Supported Browsers
Rapid7 supports InsightIDR in the following browsers:
Mozilla Firefox (latest stable release)
Google Chrome (latest stable release)
You can still attempt to use InsightIDR in other browsers, but be aware you may encounter errors.
Recommended Browser Settings
Add help.rapid7.com to your allowed URLS when configuring Adblock
In order to receive notifications and for Rapid7 Help to work properly in your browser, make sure that you add help.rapid7.com when configuring an adblocker.
Browser Notifications
InsightIDR now works with an API native to your browser in order to allow notifications. You will see a pop up window that asks for permission to show notifications. Click Allow to receive notifications.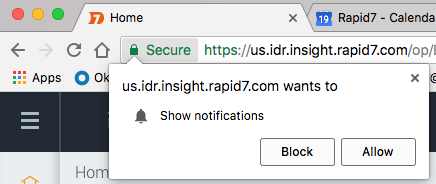 As long as you have InsightIDR open on any tab in your browser, you will see a message indicating that an alert, a data collection issue, etc, has happened and needs your attention.

These notifications will also be available in your Notification Center/Area.

Most browsers will "ask for permission" when a website wants to send you notifications. To manage notification preferences, follow the instructions for your browser:
Chrome
Navigate to the help.rapid7.com, or the Rapid7 URL for which you want to allow notifications.
Click the lock icon in the web address bar.

Click Site Settings. Chrome will open up a new tab about site settings.
Click Privacy and Security > Site Settings.
Scroll to the Content section, and select Pop-ups and redirects to update your notification preferences.
Safari
When using Safari, you will see a push notification asking for permission. Select Allow.
From the top menu, select Safari > Preferences > Websites > Notifications.
You will see a list of websites that have asked permission to show you notification. Select the dropdown to configure these notifications.

Mozilla Firefox
When using Mozilla Firefox, you will see a push notification asking for permission. Select Allow Notifications.
To manage or change these permissions, select the lock icon in the web address bar. You will see information about your secure connection and your current notification settings. Click the arrow to the right.

Select More Information.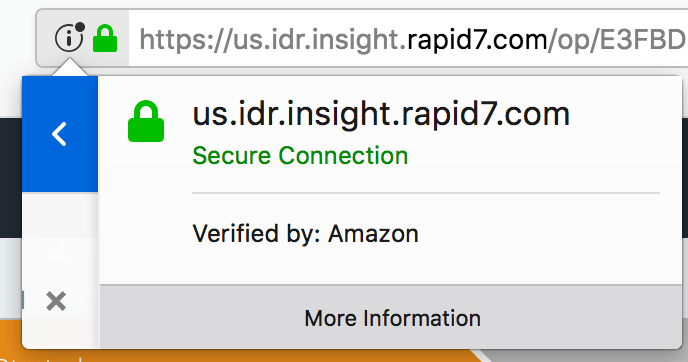 Mozilla Firefox will generate a settings dialog that will show you information about the specific website page. To manage your notifications, find the "Receive Notifications" section and choose to Always Ask, Allow, or Block notifications.