Salesforce
Overview
InsightOps provides logs for monitoring user accounts and authentications within Salesforce.  This functionality is available by configuring a security token with Salesforce which provides out-of-network access to its data. The instructions below allow you to set up a token in Salesforce, configure it with InsightOps, and view Salesforce visibility once monitoring is activated.
Before you Begin
Salesforce standard and pro version cannot leverage the API features needed for InsightOps; therefore, you'll need Salesforce Enterprise in order to bring logs into InsightOps.
To pull Salesforce logs to your collector, the collector server needs to be able to reach https://login.salesforce.com
Configure the Salesforce Security token
Salesforce can generate a security token. A Salesforce administrator with rights to create a security token can perform the following steps.
Log on as an administrator and select Personal Setup
Select My Personal Information from your user menu.
From there, click Reset My Security Token, and then click the Reset Security Token button to create a token.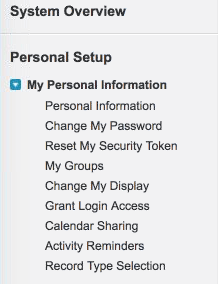 You'll receive an email containing your security token. Copy this for later use in InsightOps.
Please Note!
If you use two factor authentication (2FA) to log into Salesforce and do not have any passwords, you'll need to reach out to Salesforce support. Enable the Salesforce account to be used with InsightOps in order to generate a security token to connect the Cloud service.
Configure This Event Source in InsightOps
In order to setup Salesforce in InsightOps, you'll need the following information:
Login URL
Credential
Password
Security Token (described in the steps above)
User Account Refresh Rate (Days)
User Login Info Refresh Rate (Hours)
After creating your token, you need to define a Cloud Service event source in InsightOps. Perform the following steps.
Enter your Salesforce logon in the logon field.
Either create a credential or select a credential from the Credential drop-down list.
Enter a name of the event source in the Name field.
Enter your Salesforce e-mail user name in the Username field.
Select password from the Type drop-down list.
Enter the Salesforce Administrator password in the Password field.
Enter the security token in the Security Token field.
The Security Token field contains the token you previously received via e-mail.
The event source displays a green checkmark next to it when data is flowing successfully between Salesforce and the Collector. If there are any issues, the Collector displays a red X or a yellow exclamation point. Moving the mouse pointer over the icon displays more details about the problem.
Learn more
Salesforce uses OAuth, an open source authentication standard, to integrate with other applications. Click here for more information.