Barracuda SSL VPN
Barracuda is a platform that hosts several different security products, such as a firewall, web application firewall, web security, VPN, and others.
To start using Barracuda with InsightIDR:
Configure Barracuda Syslog
You can configure your Barracuda SSL VPN to send syslog to the InsightIDR Collector.
To get started:
Sign in to your Barracuda VPN interface using the

ssladmin

username and credentials.
In the upper right corner, click the Manage System link.
On the "Systems" dashboard, select the Advanced > Syslog tabs.
In the "Syslog Identifier" field, provide a name for how you want this log to appear.
Select the Yes radio button to include a Timestamp.
Choose whether or not to use UDP.
In the "Syslog Host" field, enter the IP or FQDN of your InsightIDR Collector.
Click the Save Changes button.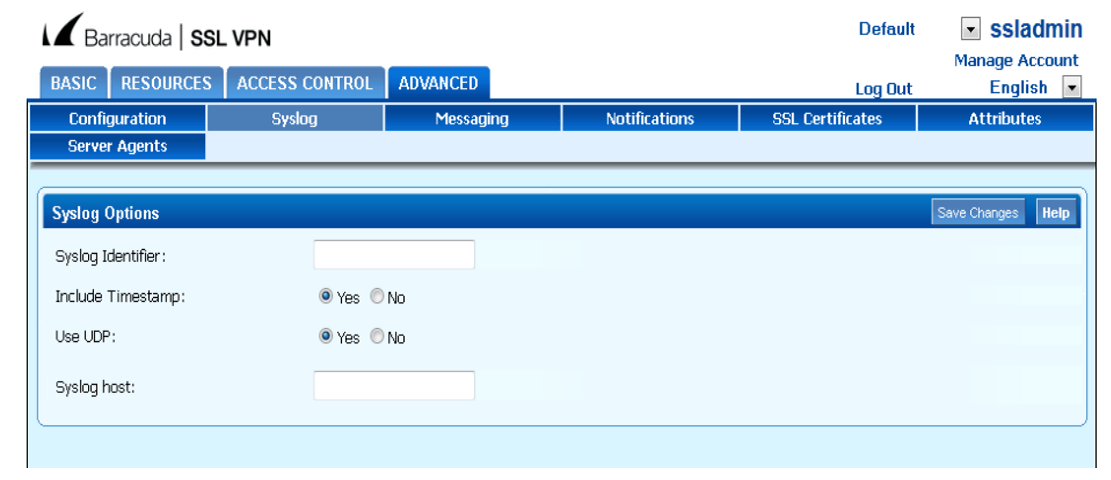 Configure the Barracuda SSL VPN Event Source
To add this event source:
From your dashboard, select Data Collection on the left hand menu.
When the Data Collection page appears, click the Setup Event Source dropdown and choose Add Event Source.
From the "Security Data" section, click the VPN icon. The "Add Event Source" panel appears.
Choose your collector and select Barracuda SSL VPN as your event source. You can also name your event source if you want.
Choose the timezone that matches the location of your event source logs.
Optionally choose to send unparsed logs.
Configure your default domain and any advanced settings.
Select a data collection method and specify a port and a protocol.

Optionally choose to encrypt the event source if you choose TCP by downloading the Rapid7 Certificate.

Click the Save button.