Search Your Data
Step 2: Search Your Data
InsightOps makes it easy to extract hidden data from your logs. With InsightOps, you can:
Search your logs with simple keyword searches or advanced analytic functions.
Drill into your data without queries using our new Visual Search technology.
Save the search for future use in alerts, dashboards, and reports.
How to Search Your Data
Click the Log Search icon on the left-side navigation bar.
Select the log(s) or log set(s) that you want to query.
Select Simple from the Mode drop-down menu.
Type your keyword in the Where field. Note: Queries are case-sensitive.
To use analytic functions such as count or average, click on the Functions drop-down menu.
Select the time range for your search using the Time Picker.
Click the magnifying glass icon to run your query.
To save your query for future use, click Save.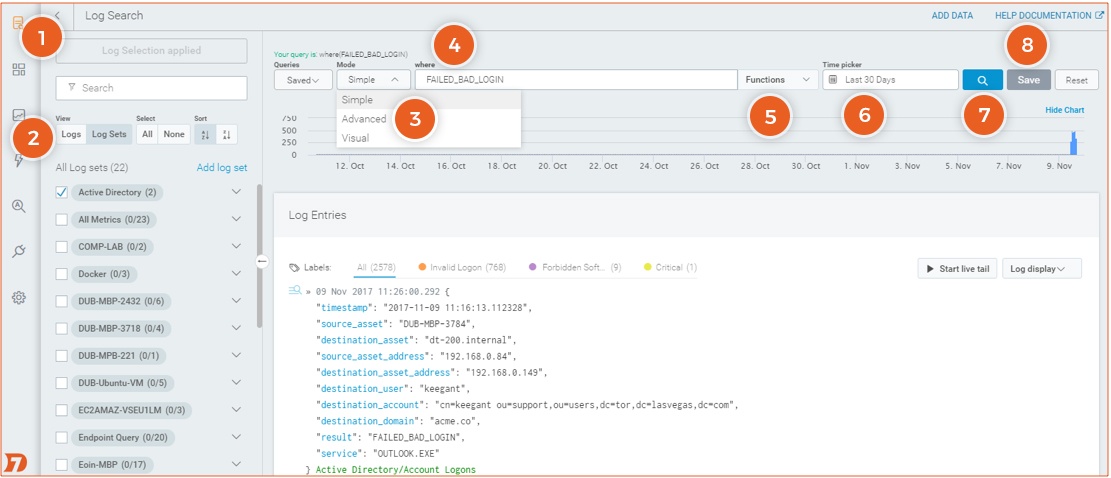 Learn more about using Log Search.
Prefer to write your own queries, or need help building them? Learn about the differences between Advanced and Simple Search.
Don't want to spend time typing search queries? Use Visual Search to drill into your data with just a few clicks.