Goal Cards
Overview
You can easily see, monitor, and manage all of your goals in one place by adding goal cards to new or existing dashboards. Dashboards are customizable drag-and-drop interfaces where you can add cards with data visualizations for various vulnerability management metrics. For more information, see our Dashboards and Cards Help pages.
Add a Goal Card to Your Dashboard
Before adding a goal card to your dashboard, make sure you create a goal first.
Create a Card for an Existing Goal
If you already have created a goal, follow these steps to add a goal card to your dashboard:
Click the Dashboard icon in the left navigation.

In the upper right corner, click + Add Card.
In the pop-up window that appears, select Goals in the left column.
Select your desired goal type by checking the appropriate box.
Click Add. This action will add a goal card to your dashboard.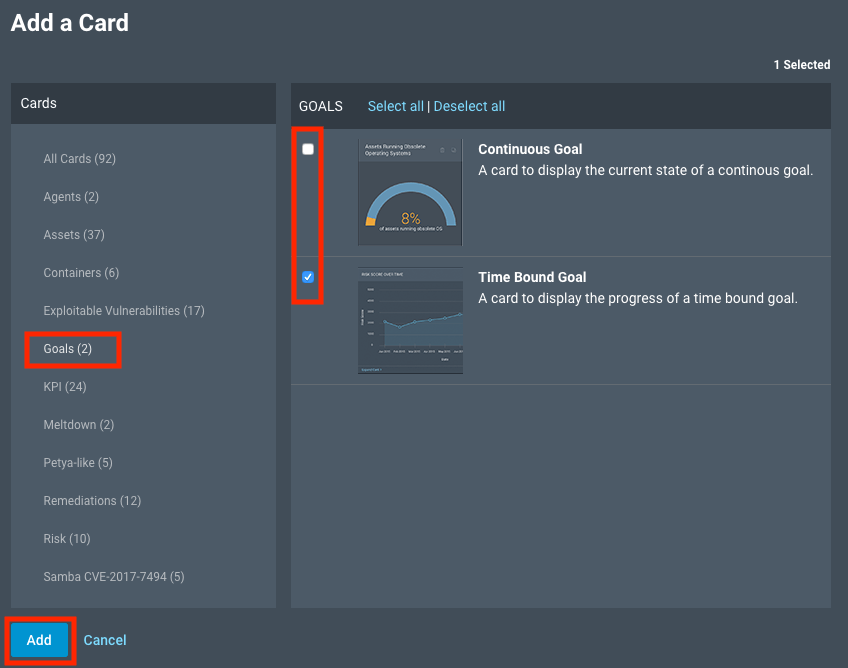 In the dropdown menu, select your desired goal. The card will populate with the data from your desired goal, so you can now track your progress from your dashboard.