During a Remediation
After initiating a remediation request, it is now in progress, indicated by the alert banner: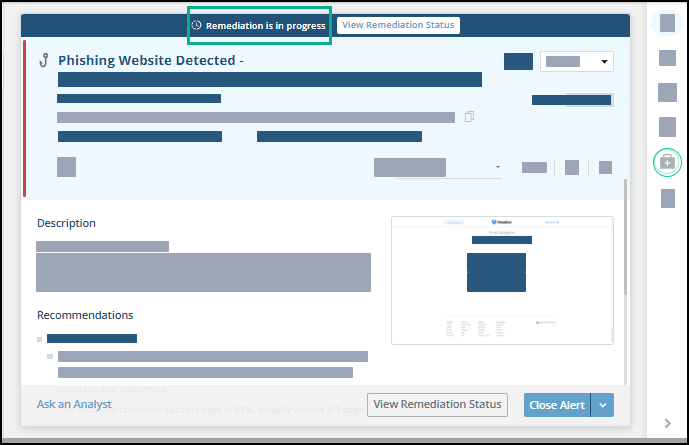 You can cancel or reopen a remediation, and in some cases, more information may be requested.
You can see the remediation status in the alert banner, the Remediations page, or in the Remediation panel.
To open the Remediation panel, do one of the following:
To cancel a remediation request:
From the Alerts list, select an alert in the process of being remediated.
To find alerts in remediation, you can use the Remediation Status filter.
Open the remediation panel, by performing one of the following:
From the Remediation panel, click Cancel Request.
Select a reason for the cancellation.
(Optional) You can enter free text about the cancellation request. The reason and text will be displayed in the Remediation panel.
Click Cancel Request.
Remediation statuses
The following statuses are relevant to a remediation request:
Status
State of the remediation
Cancelation in progress
The cancellation is being worked on. You will be notified when the request is canceled.
Canceled
The remediation process has stopped. Credits are not returned.
Completed successfully
The requested remediation was completed. This risk has been removed.
Failed
For the reason of failure, see the Remediation panel.
In progress
The remediation is being worked on. Progress updates will be emailed.
Not requested
This alert poses a security risk to your company and no remediation has been requested.
To request remediation, click Remediation or  from the Alert actions panel.
Pending client
The remediation is waiting, pending action by the user. This could be uploading evidence, a trademark, etc.
See the Remediation panel for direction on what needs to be done.
Pending vendor
The remediation is waiting for a response from the vendor.
Reopened
The original request is reinitiated. Additional credits are used for each reopen request. This status is not available for filtering.